Introducing a unique machine with endless possibilities. The new JCB Teleskid is the first skid steer with a telescopic boom, making it the most versatile machine you've ever seen. It can reach higher, further and deeper than any other skid steer on the market and can access areas you wouldn't have thought possible.

Features
Vertical reach of over four metres and a forward reach of over two metres

Reach around 1 metre below the ground

611kg rated operating capacity when fully extended

33% larger than average cab

270 degree field of vision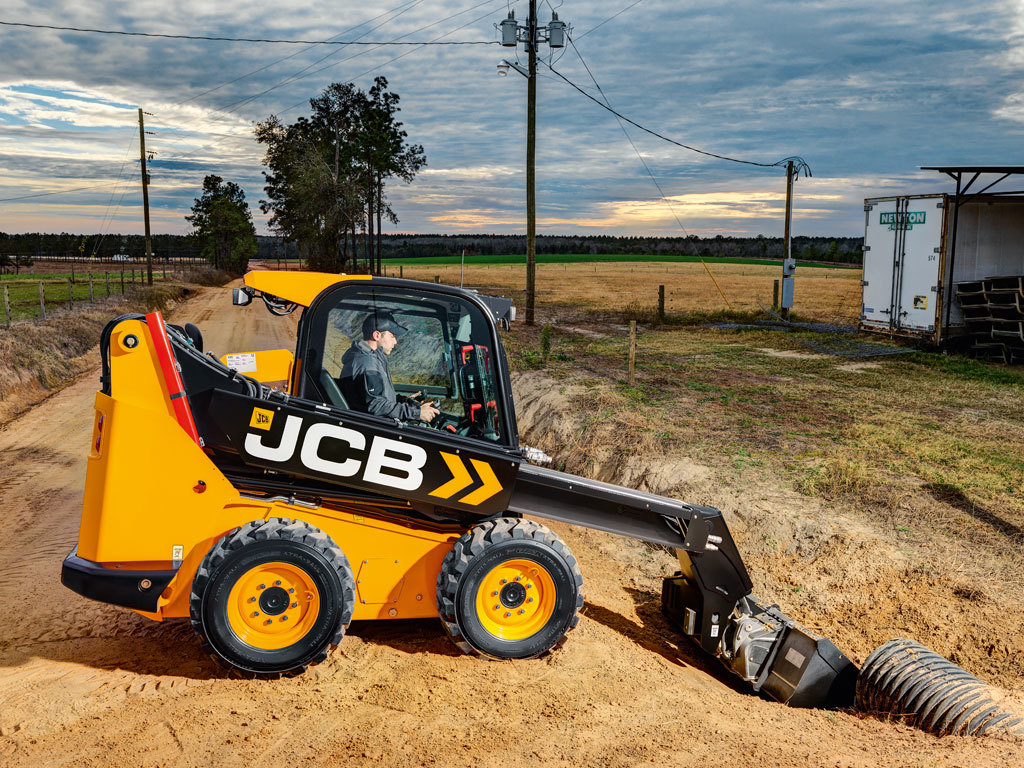 UNLIMITED VERSATILITY
The new JCB Teleskid is the only skid steer with a vertical reach of over four metres and a forward reach of over two metres, allowing it to go places and do things others can't. Now for the first time you can easily and quickly load lorries without a ramp and load over kerbs and other obstructions with a skid steer loader. Another first means you can now reach approximately 1 metre below the ground, enabling you to rip out trees and roots.

At full extension, the JCB Teleskid has a rated operating capacity of 611kg; this enables heavy items to be placed without damaging the ground. Additionally, a standard hydraulic flow rate of 90 l/pm allows you to operate attachments when fully extended whilst 125lpm high flow couplers allow safe operation of high flow attachments when the boom is fully retracted. An SAE/ISO standard quick hitch lets you utilise any skid steer attachment.
GREATER PRODUCTIVITY
The JCB Teleskid can do the work of four machines all in one - A forklift, telescopic handler, compact wheel loader and of course a skid steer loader, providing unbeatable productivity. That enables you to perform jobs like loading and unloading a trailer from a single side, increasing turnaround time.

A proven JCB EcoMAX engine gives increased performance at low engine speed for improved cycle times whilst greater tractive force than a small telehandler or forklift means greater pushing power. Impressive breakout force lets you do the work of bigger machines in less time. Finally, no DPF means no regeneration and loss of productivity.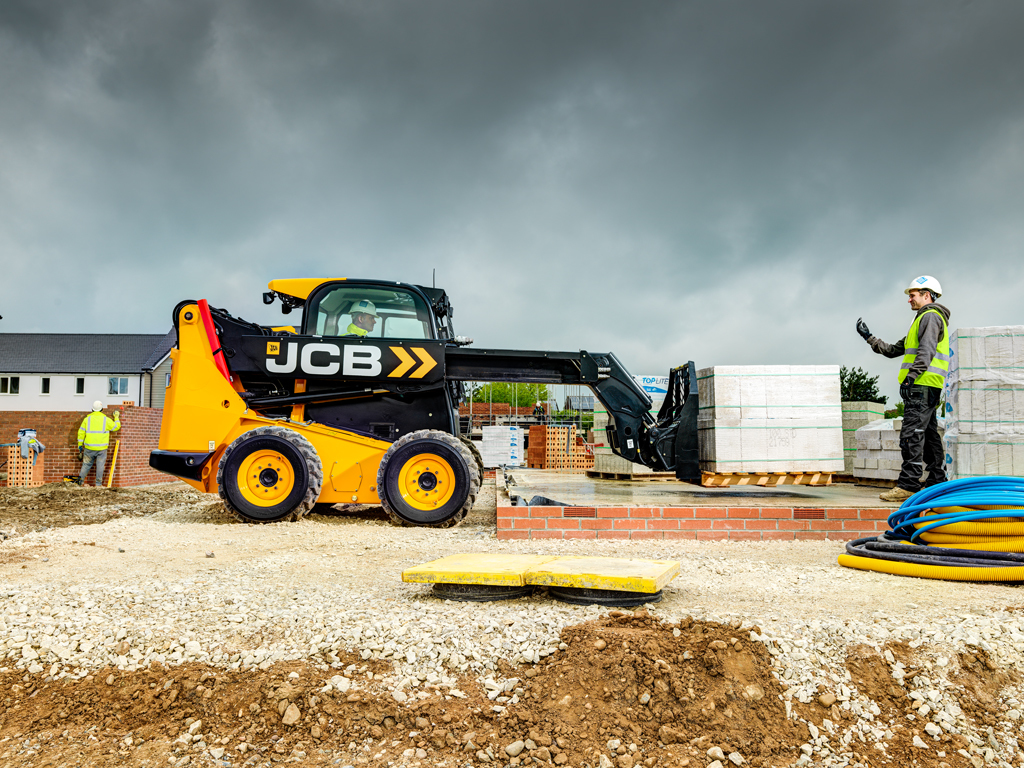 UNRIVALLED STRENGTH AND STABILITY
With a proven high strength steel boom mounted on a single-piece fully welded chassis and reliable components, the JCB Teleskid has been constructed to maximise strength and earning potential.

The JCB telescopic boom has a proven track record on over 20,000 machines and has been put through an extreme testing programme over thousands of cycles. It has reduced joints and stress points in a single-piece u-pressed design. Centralised lift and extension rams evenly distribute load stresses whilst a recessed rear door gives increased protection from damage.



TOTAL COMFORT AND CONTROL
With easy side door entry, the largest cab on the market and electric over hydraulic controls, the JCB Teleskid offers unrivalled comfort and control. JCB is the only manufacturer that offers a side entry skid steer loader with the obvious accompanying safety benefits.

A 33% larger than average cab puts it in a class of its own in terms of improved ergonomics and operator comfort. A fully adjustable heated air suspension seat provides superb operator comfort whilst low effort electro hydraulic controls make operating a Teleskid easy.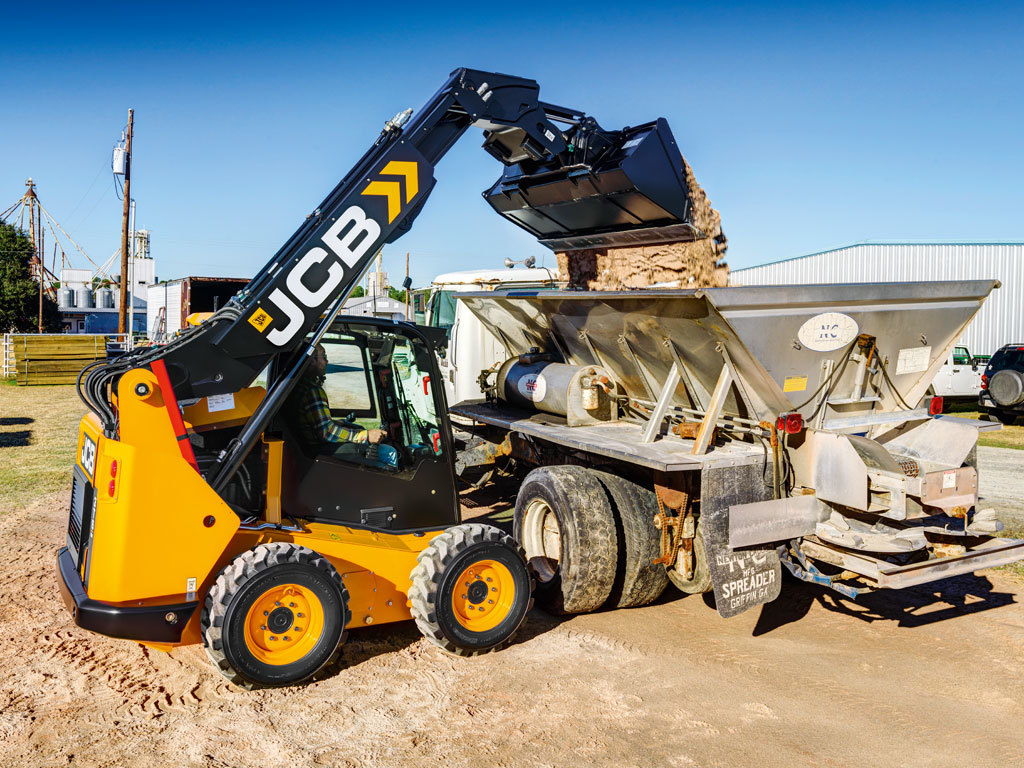 THE WORLD'S SAFEST SKID STEER
With a side door for safe entry and exit instead of having to climb over attachments or under an unsupported boom, the JCB Teleskid provides unparalleled operator safety.

A standard electronic quick hitch with a fully enclosed tilt cylinder provides less material build up and better load visibility whilst an optional dealer fit flashing beacon and front screen guard provide further safety and security.



UNBEATABLE SERVICEABILITY
With a tilting cab design and large rear service door, daily maintenance points and the engine bay are easily accessible for quick servicing at ground level. The tilting cab can be operated by one person, providing excellent access for more detailed maintenance without needing to raise the boom.

O-ring face seal hydraulic fittings means less leaks and the associated downtime whilst a standard automatic reverse fan keeps vital elements free of debris. An air intake scavenge system also helps extend service intervals.